Ad blocker interference detected!
Wikia is a free-to-use site that makes money from advertising. We have a modified experience for viewers using ad blockers

Wikia is not accessible if you've made further modifications. Remove the custom ad blocker rule(s) and the page will load as expected.
Welcome to the Imperialism Game Wiki
Edit
1997 saw a new turn-based strategy game "Imperialism": seven Great Powers and sixteen Minor Nations start after the Battle of Waterloo.
Rule the world without firing a shot - if your diplomacy is good enough (helped by intelligent production and trading with subsidies and bribes).
Soon came Imperialism 2: six Great Powers in 1502, with most of the Minor Nations in the "undiscovered" New World, with untold luxuries and riches. The "First Nations" get stronger in time, if they survive.
Then Trade Empires, neatly combining popular elements of Civilization, Caesar III, Knights II, and Railroad Tycoon!
Over a decade later, the games are still being played and discussed and modded.

This wiki helps players of those games and the developers of the next (free) versions. You can edit it - jump in and help!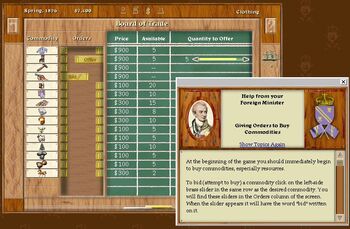 This

Imperialism Wiki

is a collaborative guide and knowledge base that anyone can edit
catering for everything related to the Imperialism strategy game
and later games,
developed by Frog City Software and published by Strategic Simulations
Expansion is critical to winning a game of Imperialism:
Population and labor
Transport capacity (freight cars) and increasing the number of items they can bring in
Processing capacity (mills and factories) and the skills of workers
Population is expanded through the Capitol, by offering to start country people off in the city with canned food, clothing, and furniture, all of which need to be bought (needing merchant marine capacity) or manufactured.
As long as they remain residents (not having been sent into the army or further trained as specialist civilians), your people need food every turn (every four of them needing two grain, one fruit, and one meat); raw food cannot be bought but must be brought into the city in freight cars. An expensive alternative, if one class of food runs out, is canned food, but a foodpack (depicted as two cans) feeds only one worker though it is the result of putting together food that would have sustained two workers. When canned food runs out, workers can stay alive on an unbalanced diet but ... Read more ...
Latest activity
Edit
Create blog post
Weblogs and other news
Hi, I will in this guide cover strategy how to win . As there are many interdependencies between various issues I will start with strategies  from beating intro difficulty and eventually progress to beating NOI most of time.

Here I will cover tactical combat. It gives such advantage to human that kn…

Read more >

Executive Summary:

This is an explanation of what I discovered as chronicled in User_blog:Enojado271/Imp_2_Map_Gen_Keys:_Over-Explained.

Every map key has two parts, a value and a length. Every key with the same value and length produces the same map.

The length is simply the number of characters in t…

Read more >

ETA: I tried to put this together more concisely in another blog post. See User blog:Enojado271/Imp 2 Map Gen Keys: In Summary for something maybe a little clearer.


Note: I did all this on version 1.0.0.3 for Windows.

Igea/Blue (from the wiki)
Iora/Neni
Swiga/Swark for roots iga/ark
Iordelly/Kirnally fo…

Read more >
See more >
Contribute and help make this the best resource for
Imperialism
and related games. You could find a
"stub" article
and expand it. Or look at
Special:WantedPages
and click one of those to start it. To start a completely
new article
(after doing a Search to check that it's not already here under a slightly different name), just enter the title in the box below and click the button.
Not sure where to start?
If you are new to wikis, see Help:Getting Started.